One of our Ignition Keys, or core values, is Life Change. We believe growing people change, so we celebrate both huge spiritual leaps and life-long baby steps. Ignition Church provides ministries for all ages and serving opportunities for all the unique gifts & abilities you might have.
Ignition Kids
We guarantee your kids will love it here! Cheri Anderson directs our Children's Ministry every Sunday morning during the regular worship service. She (and her great crew of assistants) leads kids in activities, games, music & stories to help them learn about Jesus "kid-style!"
Serving at Ignition
Loved people love people! This is what we mean by "Revolutionary Grace." There are many ways you can help people feel "at home" when they come to Ignition Church, from greeting at the door, helping with registration, providing or serving goodies, caring for small children, or being part of the worship team. We'd love to help you get plugged in to using your gifts and talents!
Outreach
Our desire to share God's love with our city means we keep our focus on how we can meet needs in our community. Since the keys that drive Ignition Church include "Revolutionary Grace," "Cultural Influence," and "Astonishing Generosity," we are always planning new ways to help, come alongside, give to and celebrate others! Do you know someone who needs our hands & feet? Contact us & let us know!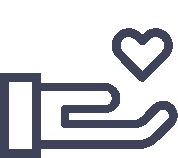 Each of you should give what you have decided in your heart to give, not reluctantly or under compulsion, for God loves a cheerful giver.